I just don't know where to start.   I'm completely lost.  I only know how to be a teacher.  I can't tell you how many times I've heard those words and even said them myself at one time. But the truth is, there really is a life after teaching.  Here are 5 steps you take now to exit teaching and start that life!

Someone once said, "Imperfect action is better than perfect inaction." For some reason, human nature tells us to be so afraid of making a mistake while doing something instead of trying something and learning from it.  However, we never stop to think that inaction never gets us anywhere.  Action leads to progress, and progress leads to results.   So, what does action look like for the person who wants to exit teaching?

Write a plan of what you want your life to look like–finances, schedule, location, etc.

List jobs or careers you might be interested in

Decide on skills you have that you excel in right now or skills you want to learn about

(Check out the Teacher's Toolkit for some help with that)

Talk to others who have made their exit from teaching

Research possible career paths

Join Facebook groups to learn and help others
These are just a few of the many actions you can take, but taking action is a crucial part of the 5 steps you can take now to exit teaching!!
Step 2: Find An Accountability Partner
It seems like this would be so easy to do, but so many people skip this step.  I did.  For me, I figured I could do things on my own and just make it happen.  But, I learned pretty quickly that having a person to keep me accountable was necessary.  Find someone you trust.  Be sure it is a person who understands your goals and isn't afraid to speak the truth to you.  At the same time, it's great to have someone who is cheering you on.  There's a balance, and a good accountability partner can provide both.  As you work together, you'll see progress on all sides.  I'm telling you…having that accountability partner is a game-changer as one of the 5 steps you can take now to exit teaching
Step 3: Shift Your Mindset
Mindset is everything.  When you're a teacher for several years, you develop a mindset. Sometimes it happens before we even realize it.  Maybe some of these mindsets sound familiar to you:
I'm just a teacher and have no other skills  mindset
More than likely, you're evaluated by a system made up of observation scores and test scores of students.  So, if something happens on the day of your observation, you're scored lower.  It doesn't matter if it's out of your control (like the fire alarm going off and a student is vomiting). Your score can be lower because you didn't do XYZ.  Then, you're evaluated by how your students score on state tests.  It doesn't matter that half the students stayed up until 2 A.M. the night before and finished the test in 15 minutes.  That's part of the score.  As a result of this system, good teachers can have a rating that is much lower than it should be.  It doesn't represent them at all.  So, teachers end up with a mindset of doubting their skills to be able to do anything because of the system they've been in for 10 years.  But, you're so much more than those scores!

Once you believe you can't do anything outside of teaching because you have no skills, you might develop a mindset of being stuck.  If we're not careful, this can lead to a victim mentality, and that's hard to pull out of.  Maybe you feel like no one else would hire you because all you know is teaching.  You're just stuck in this job with no hope to go anywhere else.  The truth is, corporate businesses love to hire teachers because they have skills in so many areas.  It's all about how you present those skills on your resume so that employers are jumping at the chance to hire you because of how you can benefit their company.  In fact, that's why we created The Winning Resume as a resource to help you land those jobs you want.  Don't let this mindset keep you stuck when you have so much to offer.
I can't lose my pay and benefits mindset

This can be a difficult mindset to work through.  There are jobs out there that will pay you well above what you make teaching.  If you're a freelancer, you can choose the price range for your services.  You can also go the route of developing a side hustle right now while you're still teaching that will build into what you need it to be over a year or two.  Sometimes, we have to choose our hard; it's hard to step out and find a new job, but it's also hard to stay in a miserable career.  Consider the benefits of going to another job, even if it is a pay cut.  Is it better for my health and my family?  Is it something that could lead to more?  Where will I be in five years if I continue in this job?  What can I do to adjust my budget to what I need?

One book that I highly recommend reading because it really helped my mindset is Darren Hardy's The Compound Effect.  It was eye-opening for me as I moved forward in this process. It will help you shift your mindset, and that may be one of the most difficult of the 5 steps you can take now to exit teaching.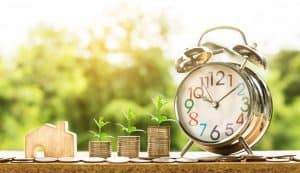 Step 4: Invest In Your Plan.
In order to make an exit from teaching, you have to create a plan.  Whether it's starting a side hustle and building it while you teach a few more years or starting a new job, make a plan.  Once your plan is made, you have to invest in it.  It would be great if it was as simple as jotting down what we want in a FB post and then having 6 people comment telling us about the perfect job that we jump on, but most of the time, it doesn't happen that way.  It takes some investment. 
It will also probably mean that you have to invest some money to make your exit.  I totally get what you're thinking right now because thought it too.  I'm a teacher–I have no money to invest.  But, I realized pretty quickly that I don't necessarily have to invest thousands of dollars into this transition.  I can start off small by taking a course on how to become a VA if that's what piques my interest.  Or, I can join a monthly coaching group like Teacher Transition Membership where you can get access to live career coaching and training sessions and pay for each month for as long as you need it with no obligations.   I used to think these things would cost me so much, but I found out that if I would pull back from going out to eat a few times a month or forego getting something to drink on the way to school every day, I could make some investment into my future.  And choosing to invest, whether it is time or money, is a big part of the five steps you can take now to exit teaching. 
You gotta make it happen!  I know that seems ridiculous to say, but that's it.  When it came down to it, no one else was going to make my exit for me.  I had to make it happen.  I had to figure out how to do that.  And honestly, I'm still a work in progress and not where I want to be.  But, it is happening.  You can do this!  You are amazing and talented!  There is hope for you outside of teaching.  You can create the life you want for yourself and your family.  It's all about JDI–Just do it, and don't let anything stop you. 
These are just five steps that you can take now to exit teaching and begin living the life you're meant to live!