Working at home is truly a dream come true. A "traditional" 9 to 5 was never a good fit for me and leaving teaching was the best work decision I ever made. With more and more people expressing their desire to quit teaching and work from home, there's an aspect of this lifestyle that often gets overlooked — your health. 
Working from home, you have the unique ability to significantly improve your health — or not. For the first seven months of working full time, I didn't pay attention to my health. In fact, I would say I neglected it.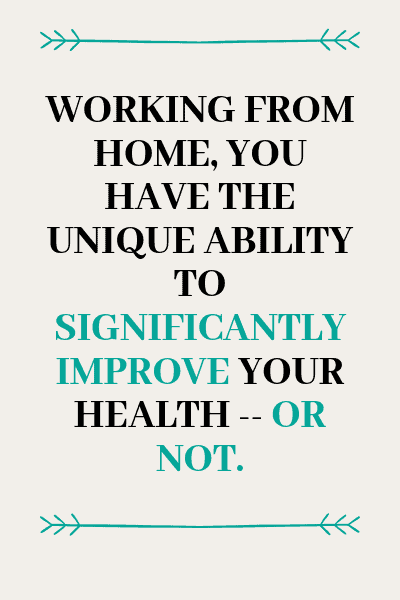 And I planned to continue down the route until an unexpected call from my doctor totally shocked me. 
She said I have type 2 diabetes — and it was in the severe range. It explained the intense fatigue I had been feeling and my lack of energy. If you want to know more about my health journey, check out my post here.
If you're in a similar boat — either with diabetes in your family history or you find yourself in the pre-diabetic range, here are three ways to reduce your risk for diabetes when you start working from home.
1. Set a timer and go for a 5 minute walk at the end of every hour.
I know: This doesn't seem like a lot and if you only do it once, it's not. But if you walk for 5 minutes at the end of every working hour, you've walked 40 minutes by the end of the day and that's a little over 13 hours by the end of the month! The consistency matters!
2. Start the morning with movement.
Without fail, what seems to help me most is starting the day with movement. When I was working at school, movement was more naturally a part of my schedule, but since I quit teaching, movement was fairly absent from my routine. So I decided to make it a daily practice. Whether it's an at-home workout, a bootcamp at the gym, a walk, or dancing to music while cooking breakfast, starting the day with some kind of movement seems to increase my focus throughout the entire day while also giving me the motivation needed to take care of myself throughout the day.
3. Drink plenty of water.
These tips aren't mind-blowing or new, but they are practical and proven. 
If you want to start getting healthier but aren't sure how, this is a great place to begin. If you want to find out more about diabetes and its management, visit the American Diabetes Association. And if you want to quit teaching, but are not sure about where to get started with your work at home career, check out this post. 
To your health, 
Brittany