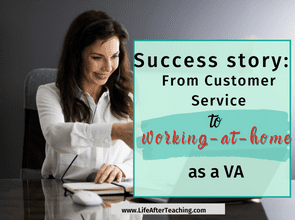 Ever feel like you might not be able to reach your goals?
Like they're just too big or too scary or even too unrealistic?
I'd like to introduce you to Dee. She's a VA (Virtual Assistant) now, but it wasn't always that way. In fact, the hardest part about becoming a VA was having the faith that should could actually do it and that she'd be able to find clients to work with. Can you relate?
She overcame that fear and is now a Virtual Assistant working from home. Read Dee's interview to learn how she overcame these obstacles and others.
1. What did you do before becoming a VA?
I have been an Office Manager and Customer Service Manager for many years prior to becoming a VA. I have worked with accounting and Human Resources throughout my career as well.
2. What was the hardest part about becoming a VA and how did you overcome that obstacle?
The hardest thing I have found is having the faith that I could actually do it, as well as finding quality clients to be able to work with. While it took time, I simply stayed focused on exactly what I was looking for to ensure I was putting out the right vibe to grow my business.
3. What do you love most about being a VA?
The flexibility to do what I want, when I want, where I want. It is great to ensure my family is taken care of while still helping businesses grow and expand when they are in need. I have a passion for helping others, my business is all about helping!
4. How much do you make a month on average?
While I am not where I want to be, I am certainly on my way. I am currently bringing in about $4500 a month.
5. What advice would you give to someone wanting to break into the VA field?
Have faith in yourself, keep pushing to make your dreams come true. Never stop learning, as the more you keep yourself educated, the more you can help your clients become dependent upon you and your services. Change is constant in the world of technology, so don't ever stop learning.
6. Who do you think does really well as a VA (or what qualities does someone need to develop to become a great VA)?
I believe people who are self-motivated are great VAs. I believe a person has to have the drive and desire to make things work in an environment where you aren't always being watched. Discipline is required. If you don't have the self-discipline to get things done, you won't be able to make the jump from an office to the home office.
7. How did you get your first VA job?
My first VA client actually came from Upwork almost 2 years ago. I am still working with him to this day. While many people aren't successful through Upwork. I have been very successful using that platform. I have also found clients through Facebook groups specifically for VAs.
8. What does a normal day look like for you?
My day starts with getting up and out of bed, taking my daughter to school, going to the gym then home and at my desk by 9:30. Once I am at my desk, I can be doing anything from working for a client to working on my other businesses or educating myself on new and different software and programs which I believe will help me continue to grow my businesses.
9. What services do you typically provide?
• Document Preparation
• Customer Service/Client Relations
• Email Management
• Calendar Management
• Appointment Setting and Confirmations
• Invite & RSVP Coordination
• Internet Research
• Event Planning
• Document Management
• CRM Management
• Data Entry
• Direct Mailings
• Proofreading
• Recruiting
What do you think? Could you do some of the things that Dee does?
Being a VA gives you more freedom than a typical job because you decide who you work with, what you charge, and what times you work.
Want to know more about being a VA?
Check out this course (the one I recommend the most) by Esther Inman–90 DAY VA!