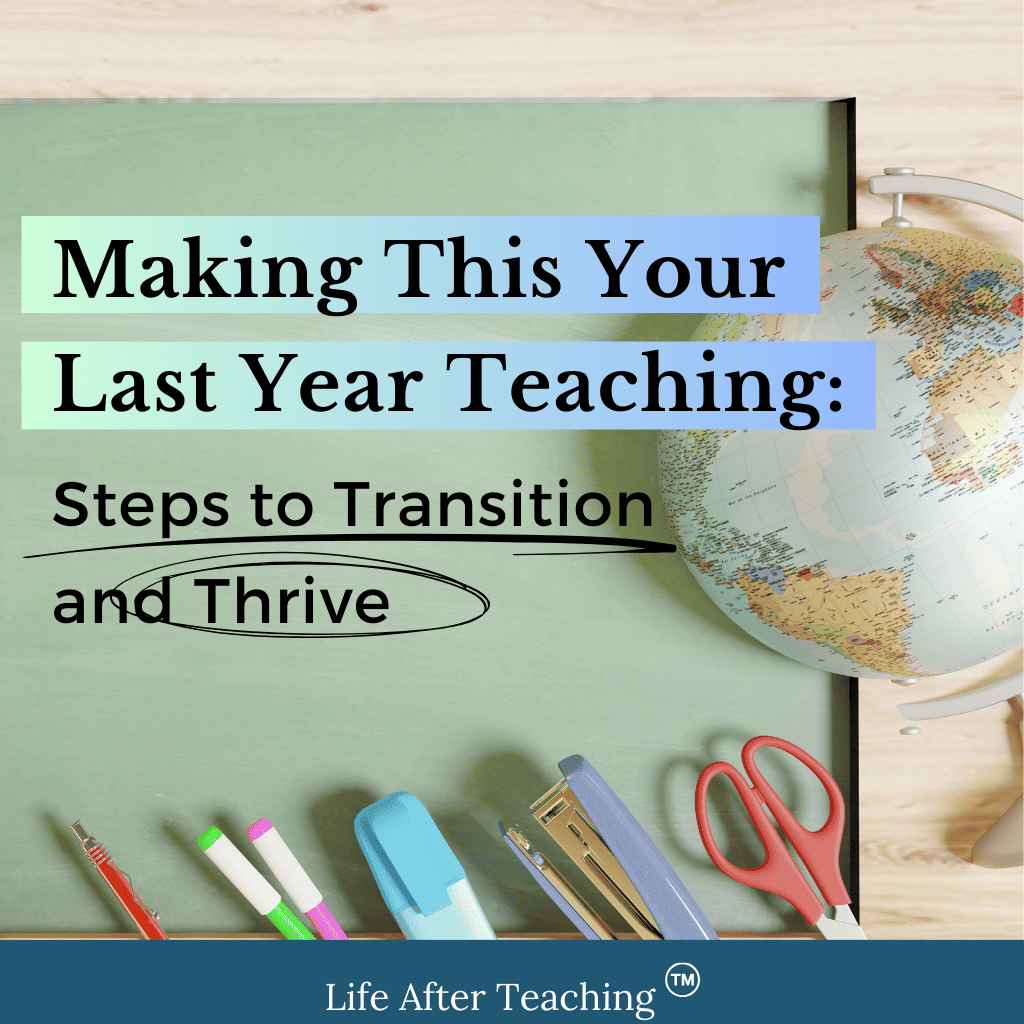 In the world of education, the decision to make this your last year teaching and step away isn't an easy one. After dedicating months, years, or even decades to guiding young minds, teachers often find themselves at a crossroads where they must consider a new path. The reasons behind this choice are as varied as the teachers themselves. Burnout, frustration with the system, and the desire for fresh horizons are just a few factors that lead educators to think about something different. However, this journey is far from straightforward, as it's tangled with mixed feelings and apprehensions.
Wanting to leave teaching isn't a cold decision; it's brimming with emotions. The classroom becomes a place where connections with students grow, where 'aha' moments are celebrated, and where strong bonds form. This deep connection makes the idea of leaving a complex one. Teachers wrestle with feelings of responsibility towards their students and a sense of loyalty to a profession that once held their passion. The fear of what comes next, of stepping into uncharted waters, can create a whirlwind of anxious thoughts that might prevent them from taking that important step.
In this guide, we'll break down the essential steps required to make this your last year of teaching and provide insights into how our latest resource, the My Last Year Teaching Club, can empower you to succeed on this new path.
Why Now Is the Perfect Time to Make This Your Last Year Teaching
In the realm of teaching, the decision to transition away from the classroom is undoubtedly a significant one. It's a choice that's rooted in a multitude of personal and professional factors, and often, the question of "when" can linger heavily. As you stand at this pivotal juncture, considering whether to bid farewell to teaching, it's crucial to recognize why now might just be the opportune moment for this transformative leap.
Burnout and Fatigue:

The world of education can be demanding, with the constant juggling of lesson plans, assessments, and the ever-growing list of administrative tasks. Over time, this perpetual cycle can lead to burnout, leaving teachers physically and emotionally exhausted. If you find yourself constantly drained by the demands of the profession, this might be the perfect time to consider a change.

Educational Evolution:

The field of education is dynamic, consistently evolving with new teaching methodologies, technologies, and approaches. While change is essential, adapting to these shifts can be overwhelming, especially if you're no longer finding the same fulfillment in the classroom. If you're struggling to connect with the changing landscape of education, it might be a sign to explore new avenues.

Desire for Renewed Purpose:

Teaching, while incredibly rewarding, may at times lead to a sense of stagnation. If you find yourself yearning for a fresh sense of purpose or a new challenge, it's a clear indicator that now could be the moment to embark on a different path.

Personal Growth:

As a teacher, you've spent years nurturing the growth of your students. Now, it's essential to consider your own growth and aspirations. If you're dreaming of exploring other interests, using your skills in a different context, or simply seeking a change of scenery, this could be the ideal time to pursue those desires.

Financial Considerations:

While passion is vital, financial stability is equally important. If you've reached a point where you're comfortable with your financial situation and can feasibly explore new career paths, this moment holds promise for your transition.

Supportive Resources:

In today's age, resources and communities dedicated to guiding teachers through this transition are more accessible than ever. Our My Last Year Teaching Club, for instance, offers tailored plans, expert guidance, and a community of like-minded individuals eager to embark on similar journeys. The availability of such resources can significantly ease the process of leaving teaching.

Your Inner Compass:

Ultimately, your instincts and aspirations should guide your decisions. If you've been hearing that inner voice urging you towards a new adventure, it's a sign to listen closely.
Now is the time to honor your well-being, passions, and ambitions. Embrace the potential that change offers, and remember that your journey beyond teaching can be as fulfilling and meaningful as the one within the classroom. By considering the factors unique to your situation and recognizing that the timing is right, you can confidently step into the next chapter of your professional life.
Making This Your Last Year Teaching: Steps to Transition and Thrive
Transitioning from the world of teaching to new horizons is a courageous and transformative endeavor. While the decision to leave the classroom might feel overwhelming, a strategic approach can pave the way for a seamless transition. If you're ready to embark on this journey and make this your last year teaching, here's a roadmap to guide you along the way.
Self-Reflection and Clarity:

Before embarking on any new journey, self-reflection is key. Take time to understand why you want to transition from teaching. Is it burnout, a desire for a new challenge, or an unfulfilled aspiration? Clarifying your motivations will provide a strong foundation for your next steps.

Set Clear Goals:

Establish specific and achievable goals for your transition. Whether it's pursuing a different career, honing new skills, or exploring a passion, having well-defined objectives will give your journey direction and purpose.

3

. Skill Assessment:

Identify the transferable skills you've honed as a teacher. Effective communication, problem-solving, leadership, and adaptability are just a few examples. Recognizing these skills will help you tailor your transition strategy and market yourself effectively.

Networking:

Building a network is invaluable. Connect with professionals in your desired field, attend industry events, and engage in online forums.

Networking opens doors

to potential job opportunities, insights, and advice from those who have navigated similar transitions.

Resume Revamp:

Your resume is your first impression in the non-teaching world. Tailor it to reflect your skills and experiences relevant to your new career path. Highlight the adaptability, leadership, and problem-solving abilities that you've cultivated as an educator.

Skill Enhancement:

Depending on your chosen field, you might need to acquire new skills or enhance existing ones. Enroll in courses, attend workshops, and stay updated on industry trends to position yourself as a competitive candidate.

Overcoming Guilt and Emotional Challenges:

Leaving teaching can evoke

feelings of guilt,

especially when considering the impact on students. Remember that your decision is driven by a desire for personal and professional growth. Focus on the positive impact you can have beyond the classroom.

Interview Preparation:

Transitioning careers often involves interviews. Practice answering questions that showcase your skills and enthusiasm for the new role. Tailor your responses to highlight how your teaching experience is an asset to your new career.

Handling Rejection:

Rejections are a natural part of any transition. Don't let them discourage you. Use each

rejection as a learning

opportunity and a stepping stone toward your ultimate goal.

Joining My Last Year Teaching Club:

At this juncture, our My Last Year Teaching Club steps in as a valuable resource. Tailored to fit your preferred timeframe, whether it's one month, three months, six months, or nine months, this club provides you with comprehensive transition courses, peer accountability, personalized training, 1:1 support, and even LinkedIn scripts to strengthen your networking efforts.
Our club is more than a membership; it's a supportive community of educators just like you, each with their sights set on a life beyond teaching. With the club's resources, guidance, and community, you'll navigate the transition process with clarity, confidence, and a network of individuals who understand your journey.
As you embark on the journey to make this your last year teaching, remember that with the right resources and a supportive community, you can navigate the challenges and embrace the opportunities that lie ahead. The path to a new career may have its twists and turns, but with determination, adaptability, and the right tools, you can achieve your goals and embark on a fulfilling next chapter. 
We, the team at Life After Teaching, stand by you on this transformative journey. As former educators ourselves, we intimately understand the highs and lows of the teaching profession. We comprehend the deep desire for change and the determination required to step into the unknown. Our passion lies in being your companions through this process. We've navigated the challenges, celebrated the victories, and emerged on the other side stronger and more fulfilled. It's our earnest wish to be part of your story too, to celebrate your triumphs and support you through the tough moments.
We know that leaving teaching is more than a career shift; it's a metamorphosis of your identity. We understand the mix of emotions you might experience – the nostalgia for your classroom, the guilt for leaving your students, the excitement for new possibilities, and the uncertainty that accompanies change.
We're not just a resource; we're a community of kindred spirits cheering you on. We've walked the path you're embarking upon, and we want to share our insights, resources, and encouragement to make your journey smoother. Your success story resonates with us because it echoes our own.
So, as you take each step toward making this your last year teaching, remember that you're part of a supportive network that believes in your potential. We're excited to witness your growth, to see you flourish in new roles, and to be a part of your life after teaching success story. 
Join us in the My Last Year Teaching Club, where your aspirations and dreams are not only understood but cherished. Let's walk hand in hand toward a brighter future, leaving behind the classroom while embracing the myriad possibilities that await.