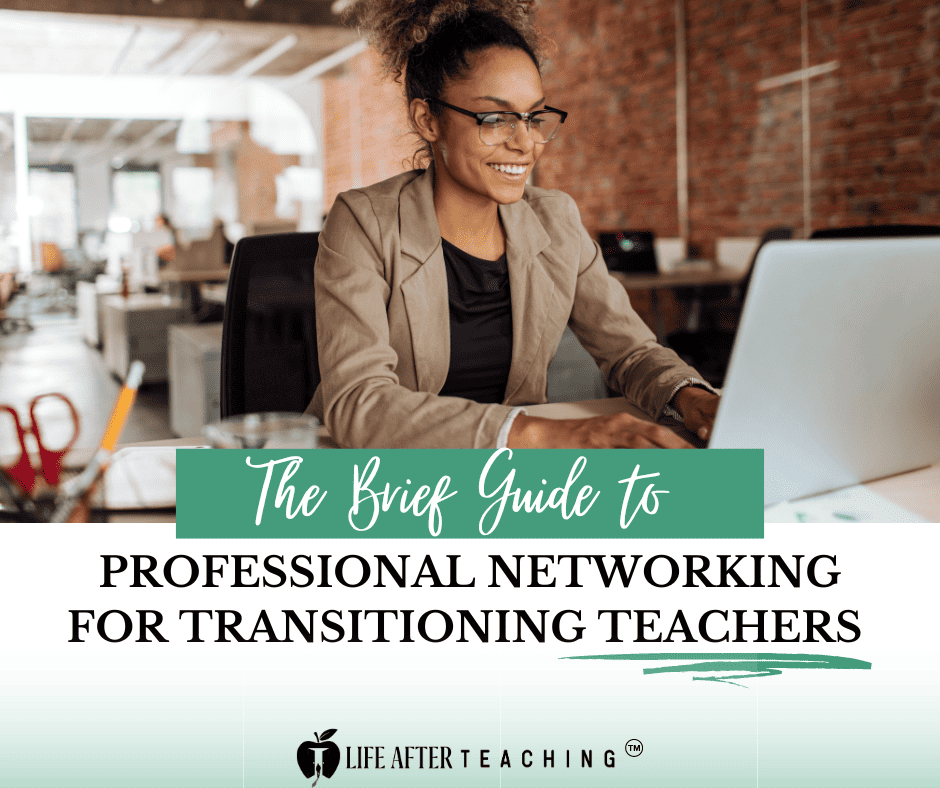 As a teacher, you've spent years mastering the art of human connection. You've built relationships with students, parents, and colleagues and turned seemingly complex topics into understandable concepts. But for some reason, when it comes to professional networking, teachers FREEZE. Don't worry; we've got you covered! In this Brief Guide to Professional Networking for Transitioning Teachers, we'll show you the ropes and unleash the true potential of networking in your job hunt toolbox. 
I have talked with teachers who would rather stick their feet in an actual fire than reach out to a stranger on LinkedIn to network.
STOP. Professional Networking for Transitioning Teachers is the most powerful tool in the job hunt toolbox, and it is the ONLY way to speed up the process and find the best jobs. 
The importance of networking when transitioning careers cannot be overstated. A significant proportion of job vacancies are filled through networking. In fact, 70% of jobs are filled before ever being posted. These are roles being filled by connections and recommendations. It's more than just a buzzword, it's the most powerful tool for finding opportunities and gaining industry insights.
In its simplest terms, networking involves establishing and nurturing professional relationships. It's about meeting and getting to know people in the industry or field you wish to work, learning from their experiences, and getting on their radar. It opens up doors with people who have relevant and useful connections that you can leverage into job opportunities. But please remember that networking is a two-way street. It's not just about what you can gain, but also about how you can give.
Why is Networking Important in Career Transition?
Discovering Hidden Opportunities:

A large portion of job openings, especially at senior levels, never get advertised publicly. They're filled through internal promotions or referrals. Networking can uncover these hidden opportunities.

Gaining Industry Insights:

Networking can provide you with firsthand insights into the industries that interest you. It offers the chance to learn about the realities of the job, the company culture, industry trends, and the skills that are currently in demand from people that are actually working those jobs.

Building Confidence:

Speaking with professionals who are already where you aim to be can boost your confidence. Their insights and advice can provide the assurance that your goals are attainable.

Developing Your Professional Brand

: Networking allows you to communicate your personal brand. It's an opportunity to present yourself as a valuable candidate and show how your skills, particularly those

transferable ones from teaching,

can contribute to the field.
Practical Tips for Professional Networking for Transitioning Teachers
Leverage Existing Contacts:

Start with the network you already have. Colleagues, friends, family, and even former students can be a great starting point. You never know who might have a connection to a great job opportunity.

Utilize LinkedIn:

LinkedIn is a fantastic tool for expanding your professional network. It connects you with individuals in your desired industry where you can join relevant groups, and participate in discussions.

Attend Networking Events:

Industry conferences, workshops, and networking events are excellent places to meet people in your desired field. Nowadays, many of these events have moved online, making them even more accessible.

Prepare Your Elevator Pitch:

Be ready to communicate who you are, what you're seeking, and what you can offer effectively. This short summary is your elevator pitch and is crucial in networking situations.

Follow Up:

After meeting someone new, follow up with a thank you note or message expressing your appreciation for their time. This helps solidify your connection and keep the communication line open for future interactions.
Remember, networking is not about immediate gains. It's about cultivating relationships that can bear fruit over time. As you venture into this exciting career transition, embrace networking as a key strategy to drive your progress.

And if you need more support, including networking templates, strategies, and guidance on how to set up and use LinkedIn effectively, be sure to get our Crash Course. It was designed specifically for teachers and will get you up to speed quickly.