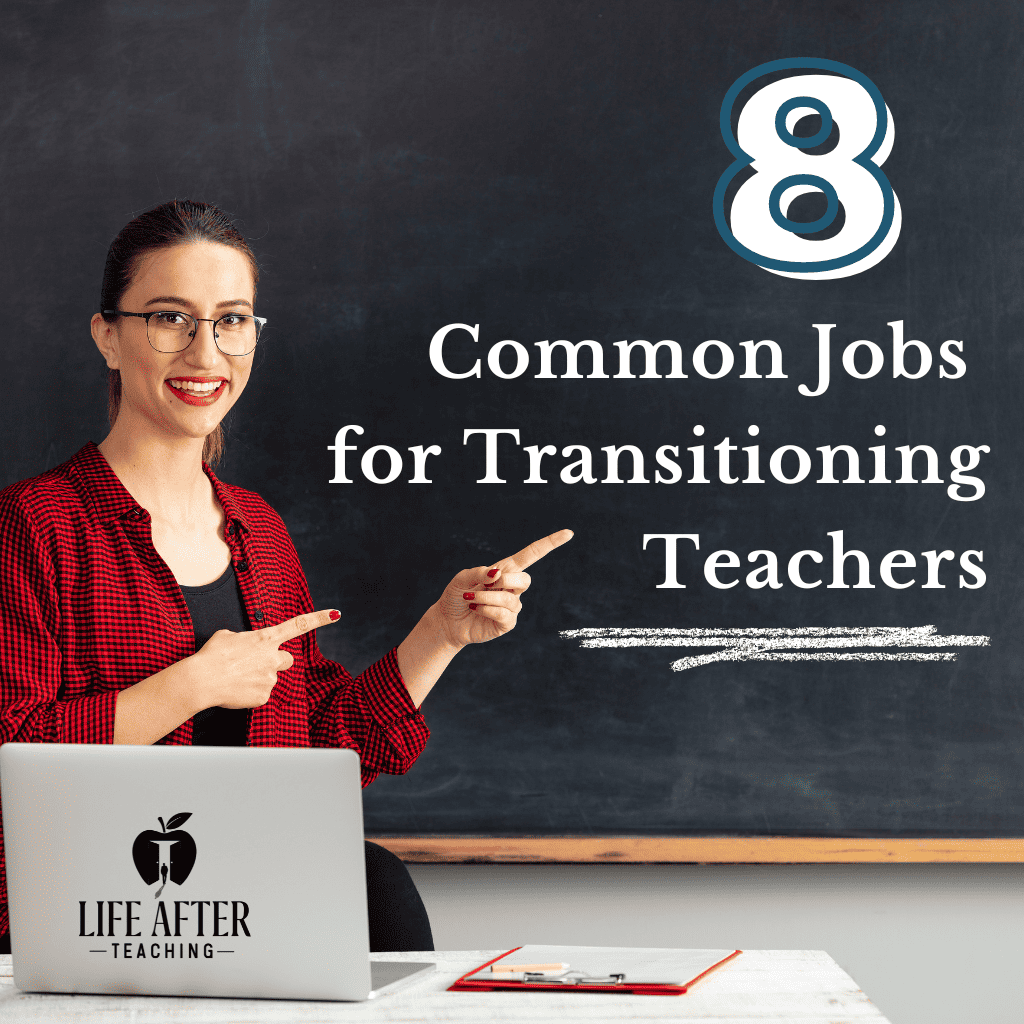 Hello, all you future former teachers out there! I have been in your shoes, and I understand that contemplating a career change after years of teaching can be as exciting as it is daunting. The good news? You've honed a multitude of skills during your time in the classroom that can open doors to countless new career opportunities. Today let's look at 8 common jobs for transitioning teachers to help you navigate your journey toward a fulfilling second career. And if you want to see a massive list of job titles that teachers have actually transitioned to, click here. 
1. Corporate Training or Learning & Development Specialist:
One of the closest fields to education outside the traditional classroom is corporate training. Your experience developing a curriculum and explaining complex concepts can translate perfectly to creating and implementing training programs for employees. You'll still be teaching, but your students might wear suits instead of school uniforms! 
Certifications: Certifications like Certified Professional in Training Management (CPTM) can enhance your profile. 
Salary: Salary can range from $51,000 to $105,000, with an average of around $72,000 per year.
If you still love the education field but need a break from the classroom, consider becoming an education consultant. Your years of experience give you insights that can help schools, non-profits, or education technology companies improve their products, policies, and strategies.
Certifications: N/A
Salary: The salary range in the U.S. generally falls between $49,000 and $92,000, with an average of around $66,000 per year.
3. Instructional Designer:
With the rise of online learning, there's increasing demand for instructional designers who can create engaging digital courses. This role allows you to leverage your understanding of pedagogy and curriculum development while offering a fresh twist to traditional teaching. Certifications: Instructional Design Certificates from institutions like ATD can be beneficial. 
Salary: Salary often falls between $52,000 and $112,000, with an average of approximately $76,000 per year.
If the aspect of teaching you love most is making a difference, you might find a rewarding second career in the non-profit sector. Many organizations value the project management, grant writing, and community outreach skills that educators often possess.
Certifications: Certified Nonprofit Professional (CNP): Offered by the Nonprofit Leadership Alliance, the CNP is a credential that demonstrates you have the knowledge and skills to be a leader in the nonprofit sector. Grant Writing Certificate: Many nonprofits rely heavily on grants for funding. A certificate in grant writing can be a significant asset in a nonprofit role.
Certified Fund Raising Executive (CFRE): This certification is recognized globally and it certifies that one has the skills and knowledge to effectively secure funding and donations for a nonprofit organization.
Salary: Anywhere between $30,000 – $100,000 annually.
5. Human Resources Professional:
The soft skills you've gained as a teacher, such as communication, conflict resolution, and empathy, are highly valued in Human Resources. In HR, you'd be working to improve employee relations, manage talent, and ensure a healthy work culture – all things that are, at their heart, about teaching and learning.
Certifications: A certification like the Professional in Human Resources (PHR) from the HR Certification Institute can be useful
Salary: Salaries range from $48,000 to $99,000, with an average of around $66,000 per year.
6. Content Creator/Writer:
If you have a knack for writing, consider a career as a content creator or writer. Many industries require high-quality content, from educational materials to blog posts to social media content. As a teacher, you're already skilled at presenting information in an engaging, digestible way.
Certifications: There are a variety of marketing certifications and courses that could be useful.
Salary: Varied
Teaching is, in many ways, about persuasion – convincing students that learning is exciting and valuable. This skill translates well to a career in sales, where your ability to communicate effectively and build relationships can lead to success.
Certifications: Certified Professional Sales Person (CPSP): This certification, offered by the National Association of Sales Professionals (NASP), focuses on the psychology of selling and can equip you with effective techniques to excel in sales.
Salary: Varied
If you've ever marveled at your ability to coordinate school events, keep multiple classroom projects on track, or manage an effective lesson plan, you might have the makings of a great Project Manager. These professionals are in charge of planning, executing, and overseeing projects within various industries. They ensure that work is completed on time, within budget, and meets specific goals. This role is a perfect fit for teachers with strong organizational and leadership skills, and who enjoy problem-solving and multi-tasking.
Certifications: A Project Management Professional (PMP) certification from the Project Management Institute can be a valuable asset in this field.
Salary: Salary ranges for project managers can be quite broad, depending on the industry and level of responsibility, but generally fall between $67,000 and $135,000 per year, with the average salary around $95,000 per year.
Remember, transitioning from teaching to a new career can seem challenging, but it's also a chance to discover new passions and strengths. I hope that reading about common jobs for transitioning teachers highlights the fact that you have more transferrable skills than you might think – and there are plenty of industries that would be lucky to have your expertise. 
I encourage you to join our FB group. We have over 90,000 teachers who are looking to or have already left the classroom. Come in, and share your experiences, thoughts, and fears with us.
If you are looking to start your own job search immediately, we created a resource just for you. It contains everything you need to get started. 
As always, take your time, do your research, and trust in your ability to grow and adapt. This is just the beginning of an exciting new chapter!