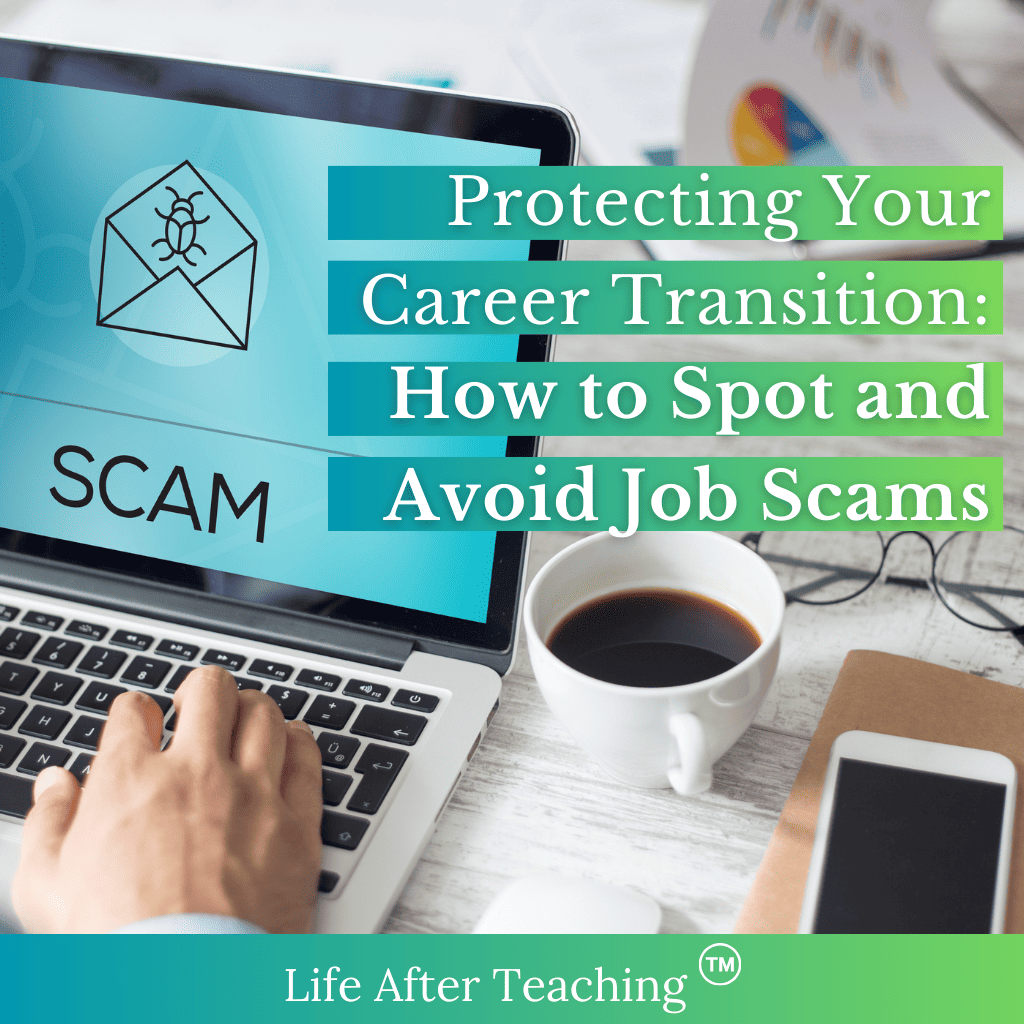 You've decided it is time to embark on a journey towards a new career, and you are taking steps to achieve it. This transition is a testament to your courage and resilience. While there is world of new opportunities out there, it's crucial to be smart and to be vigilant, particularly when it comes to how to spot and avoid job scams.
Recognizing the Red Flags
The realm of online job postings is vast, and unfortunately, not everyone has your best interest at heart. There are individuals who prey on job seekers, exploiting their hopes and dreams for personal gain. These opportunistic scammers are the wolf in sheep's clothing of the professional world. To protect yourself, it's vital to recognize the telltale signs of a job posting scam:
Too Good to Be True:

Scammers often dangle enticing offers, such as exorbitant salaries for jobs that require little to no experience. If it sounds too good to be true, it usually is.

Lack of Details:

Legitimate job postings provide detailed information about the company, the role, and the qualifications required. Beware of listings that are vague or provide insufficient information.

Immediate Hiring:

Be cautious if a job posting claims they need you right away, without any interviews or assessments. Legitimate employers usually follow a structured hiring process.

Upfront Payment:

Never pay money upfront for job applications, background checks, or training materials. Legitimate employers do not ask for fees from applicants.

Poor Grammar and Spelling:

Job postings with numerous grammatical errors and misspellings are often red flags. Reputable companies take the time to ensure their postings are well-written.

Unverified Contact Information:

Check the provided contact details thoroughly. If the email address seems suspicious or the phone number isn't working, it's a cause for concern.

No Online Presence:

A lack of a company website, social media profiles, or online reviews can be indicative of a scam. Established businesses have a digital footprint.

Immediate Job Offer:

If a job offer is extended without any interviews, background checks, or references, approach with caution.

Unprofessional Emails:

Watch out for job offers from unprofessional email domains or addresses that don't align with the company's name.

High Pressure:

Scammers may pressurize you to make quick decisions. Authentic employers give candidates time to consider job offers.
Now that you know the warning signs, make sure you know how you can protect yourself during your job search:
Do Your Research:

Investigate the company thoroughly. Check for an official website, read reviews, and look for a physical address. Trustworthy employers have an online presence.

Verify Contacts:

Ensure the email addresses and phone numbers provided in the job posting match the company's official contact information. Reach out through the company's verified channels.

Use Trusted Job Boards:

Stick to reputable job search websites and platforms. These platforms typically have mechanisms to verify job listings.

Guard Personal Information:

Never share sensitive personal information like your Social Security number or bank details during the initial application stage.

Trust Your Instincts:

If something feels off about a job posting or the communication with a potential employer, trust your gut. It's okay to walk away.

Network and Seek Advice:

Join our

Life After Teaching Facebook group

to connect with fellow educators and gain insights. Trusted peers can offer valuable advice and share their experiences.

Consider the Source:

Be cautious about job offers that come from unexpected or unverified sources. Verify the legitimacy of the sender.
Your Shield in the Journey
Remember, knowledge is your greatest protection. As you tread this path, don't hesitate to lean on the community around you. In our Life After Teaching Facebook group, you'll find a supportive network of educators who understand your journey intimately. Share your experiences, ask questions, and seek guidance from those who've walked the same path.
And if you're truly dedicated to making this your last year teaching and ensuring a successful transition, consider joining our My Last Year Teaching Club. Here, you'll find tailored resources, expert guidance, and a community of like-minded individuals ready to embark on a similar journey. Together, we'll navigate the transition process with clarity, confidence, and the collective wisdom of educators turned career explorers.
Stay Vigilant, Stay Empowered
Your decision to leave teaching and seek new opportunities is a testament to your courage and resilience. Protect your career transition by staying vigilant and informed. Each step you take brings you closer to the career you've dreamed of. 
Note: This blog post serves as a guide to identifying potential job scams. If you encounter a suspicious job posting, please report it to the relevant authorities or job search platform.