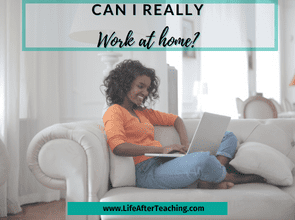 If you're thinking about working from home, there's probably one question burning in your mind.   
"Can I really make money at home?" 
Here's the short answer — yes. 
I'm a former middle school science teacher, raised in a small town and currently living in a small town. Other jobs I've worked include mostly clerical jobs. There's nothing particularly special about me. That's the story of hundreds of thousands of others who are working from home — and the number keeps increasing. 
But I suspect the question you really want to know is… "can I really make enough money at home?" 
And that answer depends on you.
At the end of the day, as long as you have access to the internet, are committed to your success, are willing to help people, and know it might take some time, then you can figure out how to make money at home. But can you make enough money at home?
Here are seven considerations to determine if you can make enough money at home.
How much do I need to earn as a contractor or entrepreneur in order to work at home full time?
Take an honest look at your finances. What do you bring in each month and what do you spend each month? I like to pad the number on what I spend a bit so that I can still budget for birthdays and other extra spendings that I don't necessarily do every month but want to be able to do when they come up. 
Pro tip: remember to take insurance and taxes into consideration! 
Where are you financially?
Look at your bank account to see where you're really at. In the last question, you also looked at what you bring in each month and spend each month. Consider that before you start working from home full-time, you should (in my humble opinion) have at least 3 months worth of savings and are making at least the same amount (including insurance and taxes) that you make at your current full-time job. 

Pro tip: The advice above is for my comfort level. You may have a higher comfort threshold — in other words, you may need more than 3 months' salary saved to feel comfortable. Or, you may need less. It's really up to your preferences and comfort level.

Until you're where you need to be for your comfort zone, consider working on your business as a side hustle/part time and hold off on leaving your full-time job until you feel ready.
Are you willing to put in the work?
This is going to take a lot of work. It will likely mean some sacrifices for a while — short-term sacrifices for long-term gain. Are you willing to make those sacrifices? If so, for how long?  For me, it made sense to put in the time and sacrifice in the short term to get the long-term results I wanted.
Working from home — especially if you want to do it full-time, is going to take a significant amount of time if you want to do it soon. If you're ok with taking a few years to get there, then spending even an hour a day to begin with is going to be enough to at least get you started. If you want to quit your non-work-at-home job within a year, though, you'll need to be willing to commit much more time. At least a few hours every night and most of the weekend. I know that might sound overwhelming, especially if you're still unsure about this whole work-at-home thing. But trust me — if you're putting in the work, growing, and consistent, it's just a matter of time and practice before you'll be able to work from home. 
How much are you willing to invest?
I hesitated to add this one because I know how easy it is to think "scam!" when someone talks about an investment regarding a work-at-home job. In this instance, I'm not talking about buying a bunch of products like you have to do in some direct sales companies, or buying leads or something like that. I'm talking about realistic investments you might (likely will) need to make in order to reach your audience and make

real

money online. 
Some of the investments I've made include: 
Training  for the things I didn't know how to do 

Hiring someone to help me so I can accomplish my goals faster 

An email service (I use ConvertKit)

Clickfunnels for my landing pages 

WordPress theme 

Someone to help me set up my WordPress theme 
The totality of these investments is probably near $10,000 BUT it wasn't all at once and will receive a high amount of revenue back from it. 
Pro tip: Don't want to spend $10,000 like I did? Here's how to cut some corners in the beginning: 
Start with the basic/free version of an email service 
Start with a less expensive landing page creator (ConvertKit offers landing pages, they're limited in what they can do, but not terrible and certainly better than nothing!)
Start with google and youtube to learn things before purchasing a course if you're not ready to make that commitment 

Use Youtube or Google to learn how to download a free WordPress theme and install it. 
Using these pro tips will save you money, but you'll be exchanging time for that money. If you're ok with that, it's a great option! 
What do you need to learn or hire someone to do?
As mentioned above, I hired a few people to help me with tasks that I didn't currently know how to do. I could have learned them, but it would have taken more time than I was willing to give up at the time. Because I had some money saved to go towards my business, I was able to hire someone. If you don't have that, no worries — you can still learn it. But, it's good to make a list of things you're learning while you go so that if you have to do it again in the future, you know how to. It's called a SOP (Standard Operating Procedure) and is essentially writing down your process step-by-step. If you create your SOP while doing the task you're working on, it's going to save you time in the long run. It'll also help you streamline more when you eventually hire someone to do those kinds of things. 
Are you willing to create the systems?
If you're unable to hire someone and need to learn it yourself, are you willing to create the systems (like SOPs) so you can have a process for everything in your business? If you want to scale your business more quickly, you'll need these SOPs. This question would probably be better written "Are you willing to think long-term?" because that's really what it comes down to. If you're willing to think long-term, you'll want to create these systems. You'll also work on one thing at a time (it's so hard, I know), avoid SOS (shiny object syndrome), and focus on your end goals instead of what's popular at the moment. 
Ok- so now that you've seen this… what do you think? Do you still want to work at home? If you're willing to put in the work and be consistent, it's nearly impossible to not make it work with enough time, practice, and patience. 
Working at home is doable — it takes a lot of work on the front end, but once you have your systems created and have put in the work, almost anything is possible! I know that from first-hand experience!  If you're ready to dive more into this work-at-home world, we'd love to help.  Teachers have a ton of marketable skills that transfer over into other careers.  Check out our Winning Resume for more help in creating a resume that showcases those skills you can market.