I get this question so often from people who want to leave teaching that I figured I should answer it in a blog post. 🙂 
There are two aspects to the work I do at home. 
First, I'm a contractor. There are a lot of contractor jobs for ex-teachers out there, which makes contracting a great option for teachers. I have one main client and then work on and off for other clients as needed and as I have time. At this moment, I don't do a lot of other contractor work for other clients because between my main client and my own work, I just don't have time. 
As a contractor, I do a variety of tasks. For my contractor position, those tasks include creating and maintaining a blog, overseeing projects, communicating with affiliates, ghostwriting, copywriting, funnel building, basic website tech, some team management and working as the liaison with our tech support when we have major issues. These tasks take a considerable amount of time so I often refer to this as my full-time job, though I often work more than full-time hours. Luckily I work with people I really enjoy working with and am fortunate enough to enjoy the tasks I do as well. 
If you're used to be in the corporate or teaching world, you may have noticed that I used the word "contractor" instead of "employee". A contractor is somewhat different than an employee. Here's how:  fr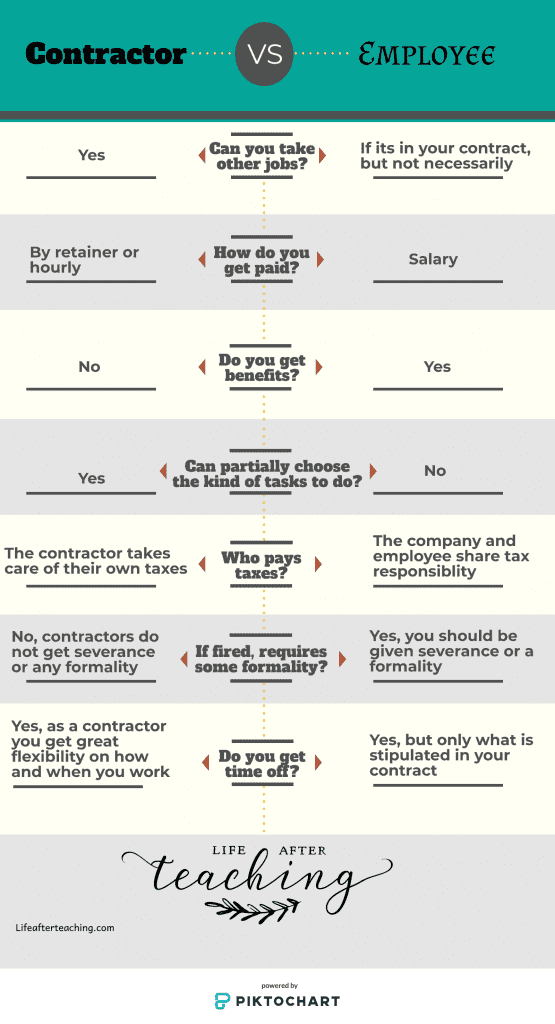 Second, I'm also an entrepreneur. This one has more stability in the long run (because you're building it for yourself, make all the decisions yourself, etc) but takes more time, failure, and risk to create. It doesn't necessarily have to take a lot of risk to start  – I started at around $32/mo (the cost of the service I use for my email list).  But because you're the one making all the decisions and you're not perfect, it's likely that you'll make some mistakes along the way and it might cost you — time, money, sleep. And that's ok — it's how a lot of us learn. I love being an entrepreneur because I get to take and use the ideas I have to directly and indirectly help people make their lives better. I love that! 
Our take 
Personally, I would rather be a contractor than employee- I love the freedom it provides me and I like that I get to have more ownership over the tasks I complete. Being an entrepreneur is the scariest of the three, at least at the beginning, but it's also the only one that can create true and lasting wealth. It is also the one with the most risk. If you decide to quit teaching and go the entrepreneurial route, I would suggest starting as a side-hustle so you can get your feet wet before going all in. 
Your turn 
Ready to quit teaching and begin your career as a contractor or entrepreneur? Take my free 8 day course to get started today!