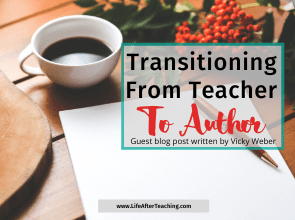 Read former teacher Vicky Weber's exciting story as she shares the steps she took in transitioning from teacher to author.


My husband has always had artistic hobbies and I've truly enjoyed supporting him in those endeavors, but I never thought to pursue my own. Until one evening, Mark looked up from his laptop and asked: "What's something you've always wanted to do?"
I thought about that for a moment. "I've always wanted to write children's books," I told him. He smiled at me and said, "Let's figure out how to make that happen." And that's exactly what we did. I dove into researching the industry and that's when I realized that for my stories to have the impact I desired, I had to look at things through a business lens.
I started with just writing. That sounds easy and obvious but as a bit of a perfectionist, getting my vision onto paper was deceptively difficult! There was a lot more revising involved than I realized. And when I finally polished everything enough to think about publishing options…it all got overwhelming.
Which Author publishing route is right for me?
I had a lot to consider:
Traditional publishing –
Free to the author (they pay YOU!)
Takes a long time
Few take unsolicited manuscripts from authors. You'll likely need to query agents
Self-publishing –
Expensive because you are the publisher
Flexible timeline – work at your own pace
You're in charge of everything so you need to learn a lot.
Both publishing routes have pros and cons so I had to decide which route was best for me. After a lot of thought and research, I determined that self-publishing was more appropriate for the story ideas I had written, and by January 2020, I could finally call myself a published children's book author.
Dreams do come true--Teachers turned author
I made a lot of mistakes with my first book. I did things out of order, I waited to market until after publication (BIG MISTAKE!), and when the book didn't sell well, my strategies were the equivalent of throwing spaghetti at the wall to see what would stick.
By August of 2021, I was able to resign from teaching to be an author full-time and in March 2022, my husband was able to leave his job at a high school as well. I was consistently making 3x more than I did as a teacher with significantly fewer hours. For the sake of transparency, just one of my book releases earned me over $15,000 in profit…that does NOT include my royalties from my other titles or money earned outside of the release. It changed my family's life and that's when I realized—if I can do this, others can too.


If I can do this, you can, too!
But as I took a closer look at the aspiring authors in the communities on social media, what I saw was a lot of people still stuck just like I'd been in the beginning.
In a conversation with Brittany Plumeri and Chelsea Tornetto — fellow teachers and successful authors — I realized that they too struggled at the beginning of their author careers and how rare it was for authors to get out of that rut. The publishing options were overwhelming, the questions were endless, and the content couldn't be found in one place. Maybe it's the educator side of our personalities but the three of us knew then that we had to help.
That was when the three of us created At Home Author, a coaching and consulting company dedicated to teaching others how to become published children's book authors.
There are days it was difficult – times I wondered if my books were good enough…if I was good enough. If I'm honest with myself, I didn't start sooner because I thought it was a pipedream. But despite it all, I have an educator's heart – I'm resilient and persistent…but not everyone can push past their fears alone.
I'm here to tell you that your success is more achievable than you think. I speak from experience—you can do this.
Written by Vicky Weber