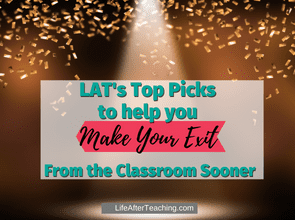 Ready to make your exit from the classroom?  We know that it can be a little daunting to figure out which direction to go when you just want to leave quickly.  The exciting thing is – there are SO MANY OPTIONS out there for you!  So, how do you narrow it down?  We thought we'd share LAT's Top Picks to help you exit the classroom sooner!   If you want to start a new career, but feel stuck and unsure about what to do next… and wish you had someone walking you through the steps so you can be successful as quickly as possible… this post is for you.

This post contains affiliate links. We will earn a small commission on any products or courses you buy using these links. Either way, you would pay the same price. We only link to products and courses that we know are great products and have either taken ourselves, seen the course, or have been recommended to the course by someone we trust.

If you are ready to leave the classroom but are a little unsure what skills you might have that can transfer over into other careers, we completely understand.   That is why we created The Teachers' Toolkit, especially for you.  This Ebook is perfect for helping you figure out the skills you already have so you can make your exit from the classroom sooner and with more confidence in your next career.  This resource lists all the skills you already have as well as gives career options that match those skills.
For even more support with creating lists of your skills in specific categories, check out Get The Job Shop's Bullet Point Bank of skills (with a special LAT discount) or the other great resources. You can choose skills from these categories to help you move forward in your job search and make your exit happen sooner: 
Relationship & Classroom Management

Curriculum & Content Development / Lesson Planning

Project / Program Management

Assessments / Grading / Feedback

Teaching / Training / Instruction / Presenting
As you look to transition out of teaching into a new career, it can be frustrating to apply for jobs and submit resumes and feel ignored or rejected.   It's not because you don't have the skills. It's because you're not translating the skills. So, we have a resource for you that will guide you step by step to create a Winning Resume in less than 7 days that catapults you to the front of the hiring line and out of the classroom. 
For more specialized support with your resume,  Teacher Transition also offers a monthly membership which includes the Find Your Next Dream Job course, multiple monthly live career coaching calls, a resume workshop, access to a discounted resume rewrite service for teachers, LinkedIn training, access to an Insiders' Job Board, and more, and you can cancel at any time.  Several of the members of our Life After Teaching group are members of Teacher Transition and have given rave reviews for it, so this could definitely support you and make your exit from the classroom happen sooner.


Skill-based courses for other careers
Teachers have so many skills, and it is so exciting to explore and see what career fits best for you.  Here are our top picks for different skill-based courses to help you make your exit from the classroom happen sooner!
Our Life After Teaching Store also has tons of our amazing products designed specifically to help teachers create their own life after teaching, from Learning to build Funnels, Ghostwriting, Side Hustle Masterminds, and even more.   There you have it…the LAT Top picks to help you exit the classroom sooner so you can create the life you want for yourself and your family. 

Time to take action: What is one step you can take today to get started finding your own dream work-at-home life? Comment below and let me know, then share this post with a friend who needs to hear it!
Join a community of other like-minded people at Facebook.com/lifeafterteaching.
If you're a teacher looking for teaching alternatives, here are some options to help you get started on your own work-at-home life.
–Andrea Rogers