Are you ready to leave teaching? Are you ready to make your exit from the classroom?  The process of making that happen is a journey, for sure, and there are more than likely 7 stages of leaving teaching that you will experience.  A journey that is well worth it in the end!
The Loss Stage is when you mourn what you feel you've lost. Time spent schooling, respect, the idea of what teaching could have been, your identity.  At this stage, educators are usually just starting to seriously explore the idea of leaving teaching.  This is one of the hardest stages to walk through because the thought is overwhelming.  We tend to question our motivation and very character.  But change is coming!

The Fear stage often quickly follows the loss stage.  We start to doubt ourselves.  We question our abilities and value.  A little panic definitely starts to creep in.  In fact, our minds are constantly bombarded with questions.  What could I ever do besides teaching?  It is all I've ever known.   No one will want to hire me. I can't learn new skills in the real world outside of teaching.  We might even fear being able to survive and take care of our families.  The good news is… those doubts aren't true.  If you need help figuring out what skills you have, The Teacher's Toolkit can help. 
The Anger Stage is a battle stage for all of us.  Here, our minds focus on all of the injustices within the system. Our thoughts focus on the things that have happened, and it is NOT OKAY. I am angry at what I feel others have and are taking from me. I don't feel in control. I don't feel like I have a way out.  I wish I was appreciated instead of taken for granted.  This stage is where so many get stuck.  If we're not careful, our energy to leave can be consumed in this focus.  That does nothing but keep us stuck longer and continue the cycle.
The Hope Stage is a crucial stage to get to.  It is the what-if stage. But what if it WAS possible to get out of teaching? (Stay away from people in stages 1-3 if you're entering the hope phase because they can crush your hope. Not because of you, but because it's where they are on their journey). Begin to explore other options. Begin to create a vision for your future and what it could look like.  Start working on a plan to make it happen.  Start to work on your mindset. Believe that the future you want is out there in front of you, and you can figure it out!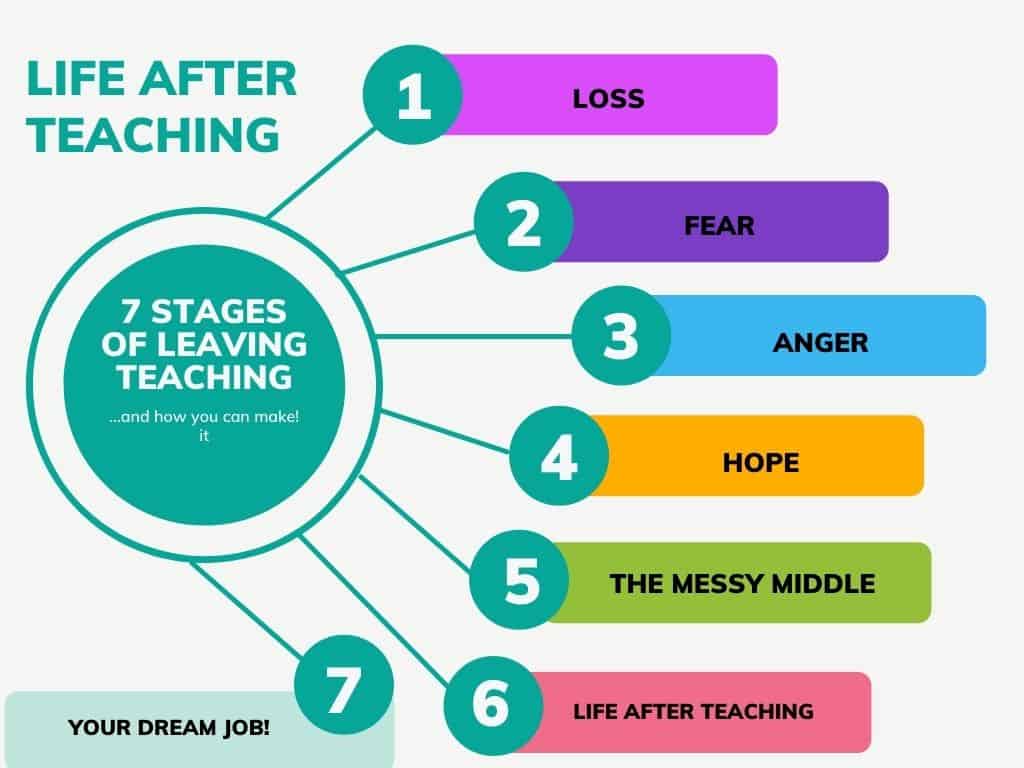 The Messy Middle Stage for teachers is when we move forward. We start taking action and start applying for jobs. It doesn't go as quickly as you might want and it feels discouraging or like no one wants to hire you.  Here's the key… you just need to take action.  Start moving forward in your plan.  Start revamping your resume to showcase what you can do for employers (The Winning Resume can help with that).  If you keep moving forward through the messy middle, it brings you to…
Stage 6. LIFE AFTER TEACHING
The LIFE AFTER TEACHING Stage! You get out, you get a new job. You are thrilled! Like many teachers though, it might not be your forever job and that's okay.  Don't be afraid of that.   At this stage, most teachers seem to recognize how messed up some of the stuff was that they took for granted before. It feels like a huge weight is lifted and you think "I could never go back to that." This is the place to work through some of the mindset blocks that came up during teaching. (Read The Compound Effect—life-changing!). If you don't, you'll find yourself with the same habits as before — overworking, taking on more, feeling like everyone around you isn't for you but against you (in some cases).  Spending legitimate time working on your mindset will help you create the life you want.
Yep, that's right…your dream job! For some people,  the life after teaching phase and this phase are one and the same, but for those who took a job that wasn't their dream job because they needed out asap, there's this stage. Between stages 6 and 7,  there is a lot of deep work to do as many teachers go through rediscovering who they are and their identity outside of teaching.  You figure out what you enjoy doing.  You might even be surprised by what you are so good at doing. There are tons of possibilities for you.   This stage is what everyone is seeking.  You create the life you want for yourself and your family. You create a work-life balance and begin living your dream.
No matter where you are in this life after teaching journey, remember that is a stage.    No one's journey looks the same, but life can be good if you continue to take action and move forward.  If you are ready to move forward, check out this blog post on resources that we recommend as our Top Picks to help you exit the classroom.

–Andrea Rogers