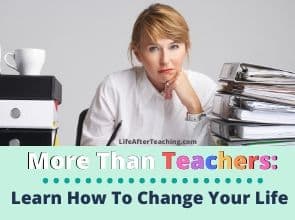 More than teachers Summit
"We cannot change what we are not aware of, and once we are aware, we cannot help but change"- Sheryl Sandberg
It is easy to forget we are more than teachers. In this fast-paced, technology-driven era, we tend to live our lives on autopilot. Little by little, we find ourselves suffering from an endless list of symptoms we don't know what to do about it, but we are certain something must be done. 
The signs are there, the red flags are visible…but we tend to ignore them! We tend to pretend we don't see them. But eventually those red flags turn to billboard-neon signs demanding our attention. 
The signs that you need to quit teaching
So, let's get right to it. What are the signs you are in desperate need of a career change? 
Your health has been compromised. You've developed illnesses associated with stress, overwork, and anxiety.

You don't have a work-life balance.

Your life has evolved with new family needs or responsibilities.

Hoping for Friday, but Sunday night comes in a blink of an eye.

You are constantly dreading Monday mornings.

Your income/salary is not increasing but your bills are.

You feel like you are settling in life. No passion, no motivation, or excitement.

You would leave right now if you had another source of income.

You are constantly feeling worn out, burnt-out, exhausted and frustrated.

You don't feel valued or appreciated.

You have a toxic administration or environment.

You resent the people you are working for or you are working with.

You are secretly wishing for blizzards, hurricanes, or Armageddon to have a day off!
Feeling one or several of these signs can take a toll on you, physically and mentality. 
Not addressing them, can hinder you from giving 100% to the job you signed up to do. 
Sometimes, setting boundaries and adopting effective time management techniques can alleviate some symptoms. But in most cases, a drastic change is required to start the recovering process 
We are more than teachers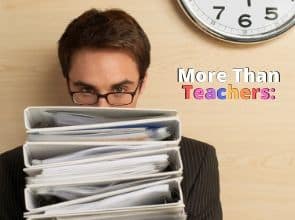 This is why I created the More than Teachers Summit for teachers who want to leave teaching or supplement their teaching income but don't know what to do next. I'm introducing you to former teachers that are doing something different and experts that are doing something teachers could use or do themselves. 
The purpose of this event is to inspire teachers to step outside the box of education, and to provide you with career options, actionable tips, and support in this transitional phase. But most of all, is to present tangible proof that there is life after teaching, and in the majority of the cases, a very successful life.
If you have felt this way, then this Summit is just what you need:
Feeling disrespected by parents, administration, and students?

Feeling like you are giving your best but you are being asked to do too much?

You believe teaching isn't what it used to be?

You like the stability you perceive you get from teaching but you don't like that you can't really get ahead on debt, bills, and traveling?

You want more freedom to be with your family, travel, and not worry about money? 
If you answered "yes" to one or all of these questions, then click this link and get your FREE TICKET to the More Than Teacher Summit, going LIVE on February 17th!
"The secret of change is to focus all of your energy, not on fighting the old, but on building the new."-Socrates
Feel free to contact me if you have any questions. You won't regret being part of this impactful, powerful, information-packed online event that will give you the support, tips, and inspiration you need to finally live the life you deserve.
Don't forget to grab your FREE Ticket. And remember, we are more than teachers.