Looking for your first job out of teaching can be frustrating and confusing. What do you do with your experience? Who will hire you? Wonder no more. Here's the next spotlight of great jobs for former teachers: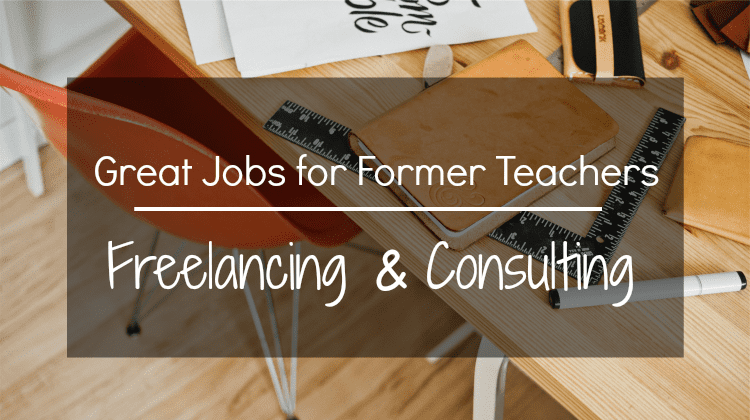 Freelancing and consulting are elusive jobs that many people struggle to define. These positions are the embodiment of entrepreneurship: you take essentially nothing and turn it into something that someone will give you money for. Myself, I've been freelancing since 2013 making a full time income working from home and I still stumble over how to describe my job without saying, "Um… I write a lot."
That said, teachers have a number of the skills necessary to freelance or consult successfully — in fact, we've already featured another English teacher turned freelance writer — it's just a matter of identifying and communicating your value. If you have a gut feeling that freelancing or consulting might be a good fit for you, read on!
What Is Freelancing and Consulting?
Freelancing is a generic term that refers to someone who does work on a project or contract basis and is not a full-time or part-time employee to any one person. Some freelancers have full-time or part-time jobs and "freelance" as a side hustle to make extra money on weeknights and weekends. Others freelance 100 percent, like me, and make a career out of it. However your workload breaks down to allow you to bring in the income you need or want is fair game in the freelance world.
Freelancing generally refers to any kind of work done on a project that will have deliverables, or actual delivered items such as a word document, image, or project. Consulting refers to the same process but is reserved for the process of giving advice, feedback, and strategy to someone in exchange for money. When done well, both of these types of work focus on the value of the results (in freelancing, the value of the deliverable; in consulting, the value of the implemented advice).
For example, I am a freelance writer and I also consult some clients on managing their digital web presence via their website and email newsletter. As a writer, I might write a blog post or an advertisement for a customer and that would result in a deliverable (a PDF or Word Document). As a consultant, I might have a 2-hr phone call about the best way to design a website, email marketing campaign, or product. Both of these jobs come from the three main parts of freelancing and consulting (establishing my expertise, finding clients, and doing good work) but neither comes from being a employee of anyone outside myself.
You can do almost anything as a freelancer, and I really mean anything. Here's a short list of people I have met, worked with, and read about who generate an income themselves independent of a traditional employer:
Advertising/copywriting
Email marketing
Graphic Design
Photography
Business Strategy Consulting
Digital Organizer
Curriculum Designers
Speakers on special topics
The way to decide what you would do as a freelancer is to figure out your skill set (writing? taking photos? organizing people's computer files?) and identify how or why someone would pay money for you to do that.
When you think of your idea and immediately say, "But that's not realistic. How would I get health insurance?" I encourage you to change your question. Instead of dismissing a creative vision for your future, I encourage you to ask "How would that work?" Approach this process like you would a fun, no-pressure puzzle, and you will be surprised by the path that starts to form in front of your feet.
The Internet is an amazing resource for this. Simply do a web search for your skill and start following blogs and websites that can help you learn the field and how to market yourself. Don't be intimidated by others in your field, just dive in with a low-cost, beautiful website from a company like SquareSpace or WordPress and start reading.
Here's a rundown of the important skill sets, qualifications, and resources for freelancing and consulting.
Important Skills for Freelancing and Consulting
I've been working for myself as a freelance writer since 2013. The first year I made $59K and this year I am on track to break $80K. But it's not easy! It's a lot of work, passion, and stamina… that I think other teachers might have, too.
Read more about my freelance writing business in this eBook.
The skills you need will definitely depend on the kind of freelancing or consulting you will do.
As a graphic designer, you'll need to know design tools like Photoshop. (Download the free version and a free introductory course that you find online and try it out. If you can, invest in a copy and a course.)
As a business strategist you'll need an understanding of how businesses work and a high comfort level with talking to people. (Find business owners in your network and meet them for coffee for free. Ask them if you can coach them for free in exchange for a referral if you do a good job, then help them however you can.)
Personally, I think there are two absolutely vital skills you must have: resilience and organization.
Resilience because the freelance life is full of ups and downs, both emotionally and financially. It took me about a year to get the finances under control and not feel stressed because I was waiting on a check. And two years in, I still have to carefully monitor my workload and stress levels or I feel anxious and overwhelmed. Also, receiving feedback from clients day in and day out can cause you to doubt yourself. It takes courage to accept constructive criticism and still perform at your best day in and day out.
Organization because when you freelance, you are on your own! You must live by your deadlines to prove your trustworthiness and you must have a good system for completing the work you say you'll do. I use a physical calendar and an online project management tool to keep my work organized.
You can read about a day in my life as a freelancer here.
Qualifications/Education for Freelancing and Consulting
One of the best things about freelancing is that the qualifications are up to you! Some freelancers make a name for themselves based on their educational experience. Others emphasize their real-world experience. What matters is that you have confidence in your knowledge in a given area and that you deliver value to the people you work with.
Nervous about that? Don't worry! It definitely comes with time. I was very nervous about money and my skills as a writer when I first started out. I kept at it and continued to educate myself and practice my skills, and today I am much more comfortable with what I do.
That said, to become a confident freelance writer I did use a few tools and programs that I found by reading blogs. The best one was Brandgasm, which introduced me to design and copywriting. I also bought Carol Tice's J-School.
Example Websites for Consultants and Freelancers
Here are a few websites and portfolios of freelancers and consultants I have met in my years freelancing: