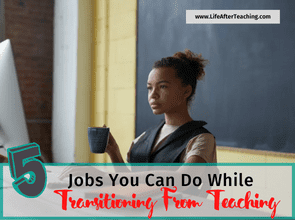 Jumping from one career path to another can feel terrifying. You start worrying about where you'll get insurance or whether you're going in the right direction in life. While both issues aren't entirely unfounded, your fears can hold you back from enjoying new experiences and lessons. The best way to remedy your situation is to find things that will help you feel more secure while you're transitioning from teaching.  Here are 5 jobs to do while transitioning from teaching, and these can often turn into your next career.
Reasons to Switch from Teaching to Another Career
Jobs You Could Do While Transitioning From Teaching
If you're in the middle of transitioning from teaching to a different career, the following jobs can serve as your financial buffer to keep you afloat while you continue your search. 
Technical Writing
Teachers are required to possess impressive critical thinking and writing skills. These skills can easily be transferred to a technical writing position. In technical writing, you'll most likely be tasked to write or edit instruction manuals, user guides, journal articles, and academic essays. If you have a knack for communication and composition, working as a technical writer while you transition from teaching is a great idea. Technical writers can make around $74,000 a year — depending on where they work as well as the amount of effort they put in. 
Writing is one of the many professions that require good eyesight, creativity, and excellent attention to detail. Have your eyes checked regularly to avoid issues like eye strain or dryness. Improve your writing skills by taking classes or attending seminars that teach you new and better ways to communicate with readers. 
Managing Social Media Accounts
If you want to enjoy flexible hours, you should consider becoming a social media manager. This position doesn't require you to have any degree or certification in any field. You just need to have a keen sense of what people are interested in nowadays. Creativity and communication skills are two other qualities that you want in your arsenal. These will help you create content that will engage and capture your audiences' attention. 
A social media manager can make around $66,000 to $100,000 per year, depending on your specialization and skill. There are plenty of training programs and courses you can join to enhance your social media skills and land the job you want. 
Underwriting Insurance Policies
Underwriting insurance policies can be a lucrative career path. If you're well-versed in economics, business, or finance, you already have a competitive advantage to become successful in the field. 
Nevertheless, people with no experience in business or finance can still make a living out of being insurance underwriters. Insurance companies invest a ton of money in training new hires. You'll have all the opportunities to learn everything you need to know through company-funded seminars and classes. 
Flexible working hours and exciting career or personal opportunities are just some of the few benefits insurance underwriters can enjoy. In terms of salary, you can make a median of $71,000 per annum — depending on your performance. And it might just be the career you want to pursue full-time. 
Coordinating Human Resources
Human resource management is often a great second career choice for teachers. Here, you get to use the problem-solving and evaluation skills you've developed as an educator. As an HR manager, you coordinate, plan, and direct a company's employees and functions. This includes consulting with executives regarding business strategies, overseeing recruitment efforts, and relaying important information from employees to the higher management.  And there are training and certifications offered. 
Human resources managers make anywhere between $70,000 to $111,000 annually. If you have a bachelor's degree in business administration, economics, or education, you're a perfect candidate for this position.
Becoming a Paralegal/clerk
Although taking a job in the legal field might seem intimidating, it's an excellent opportunity for educators to enhance and widen their skills in evaluation and analysis. Paralegals handle various tasks that help lawyers build and defend their cases, including gathering factual information from reliable sources, organizing documents, and filing or drafting legal documents. Some law offices offer training opportunities for this, and it could turn into a full-time career that you might enjoy.  Having spoken to two former educators recently, both have said this was how they got their foot in the door and now love what they do.
Paralegals make an average salary of $56,000 per year, with the best-paid workers earning more than $90,000 per year.
Transitioning from a career in teaching to something different can feel intimidating, especially if it's your first time doing it. Luckily, the world is chockful of great opportunities. Take a leap of faith and see where it lands you.
Feel like you need more support for resources or courses? Then check out the LAT Top Picks Blog post to help you exit the classroom even faster!
This Blog post is written by Bash Sarmiento.