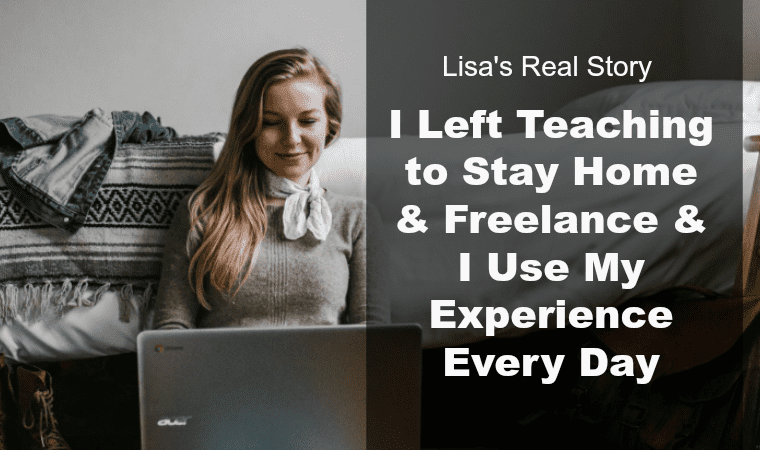 Please welcome this real story from Lisa Tanner, a freelance virtual assistant who taught for six years with a bachelor's degree in elementary education and reading with a minor in special education and is still amazed at how much her degree has helped her in her freelancing venture. Ayesha writes about the slow realization that teaching wasn't right for her… and the surprising career she loves now!
1. Please describe your teaching experience and educational background. (What degree or certificate did you earn, what level and subject did you teach, how was your overall teaching experience?)
I earned my bachelor's degree in elementary education and reading, with a minor in special education. I had endorsements in Reading (K-12) and Elementary (K-8). My very first teaching position was in a high-school self-contained classroom. I learned a lot there about meeting individual needs, providing differentiation, and the importance of believing students could learn.
After we moved, I taught in a year in an elementary resource room while I earned my Master's Degree in Elementary Reading and Literacy. At the end of the school year, there was a RIF and I was let go. I accepted a position as a teacher at our local Parent Partnership Program, and taught there for four years prior to leaving teaching.
2. When did you realize teaching was no longer right for you? Was there a specific moment or did it dawn on you slowly?
The realization came slowly. I was teaching at the Parent Partnership Program, and generally enjoyed my job. Except every year the legislation changed the policies and we would have to adhere to a completely new set of rules. That meant we had to retrain all the parents every year, and no one ever really knew what to expect. Things they could do last year were no longer allowed. It was frustrating for everyone, and hard to plan for.
My husband and I talked about me coming home and homeschooling, but the time never seemed right. Then, the door opened up for me to come home in 2012, and we took it!
3. What position do you have now? (If you'd rather not list specifics, just describe a generic title and role you hold and we'll leave out the personal details).
I'm first and foremost a homeschooling mom to our seven children (including one with a severe disability). I am a part-time freelance writer and virtual assistant, and in addition, I am currently creating reading courses for homeschoolers.
4. Why do you think you got this job? (Your network, your resume, etc)
When I began freelancing, I was amazed at how many opportunities opened up because of my advanced degree, and my educational background. My resume got me many gigs, and now I'm slowly building a network.
5. What do you miss about teaching?
I miss my students, and working with the parents who cared. In the Parent Partnership Program, there were many of those!
6. What do you NOT miss about teaching?
The politics. This was especially bad in the alternative education arena.
7. What surprises you most about life after teaching? (That is, does work outside the classroom meet the expectations you had for it after teaching, or did some of it surprise you?)
I'm surprised at how often my degree has been useful. In fact, I'm planning on taking courses to keep my certificate current even though I don't plan on ever returning to the classroom. I never imagined the doors that piece of paper could open.
8. What advice would you give to a teacher who is afraid to leave the familiarity of the classroom for another job?
Just do something small. Take one tiny step in the direction you want to pursue.Redo your resume. Network. Spend the summers diving into new opportunities. If you never take a step forward, you'll be teaching forever. You can do it!
9. Do you think teachers are more talented than they think? Why?
Definitely! Teachers are a talented group; you have to be to succeed in the classroom! They keep their kids from overthrowing them in classroom mutiny–that's amazing leadership and motivational speaking.
They're creative, quick-thinkers, and know how to think outside of the box. They have the perfect skill set to succeed in numerous opportunities outside of the classroom.
However, most see themselves as just teachers, limiting their potential to the classroom. They need to believe in themselves, and look at their experiences and education in a new light.
Think freelancing might be the ticket for a second career, or simply to cover the gap and let you stay home? Don't miss Sarah's Freelance Writing Site or Gina Horkey's 30 Days or Less to Virtual Assistant Success training program!