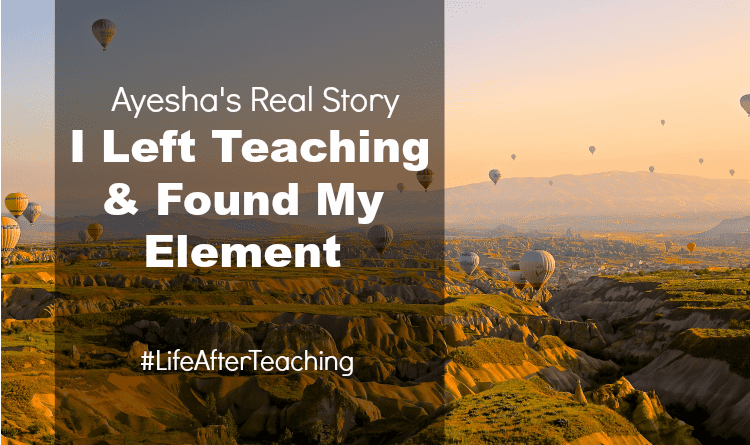 Please welcome this real story from Ayesha J. Gallion, an author and freelance writer who taught high school English for 10 years. Ayesha writes about the heavy decision-making process that comes with leaving teaching… and the surprising benefits that came along with it!
After almost 10 years, I resigned from my position as an English teacher at a magnet school for the arts in Newark. I was offered a senior position as a communications representative for the largest integrated plastics manufacturer in North America.
I was straddling fear and courage; the familiar and the unknown; complacency and unrest. I accepted the position.
Truth
The culture of humility and nobility that once kept me in the classroom no longer exists within the confines of modern urban education. In many ways, teachers are martyrs of sorts. I did not want to be so selfless anymore. All other parts of my life yearned for my return.
The often vacuous attempt to disaggregate data extracted from district-mandated assessments was embarrassing to behold, and I couldn't remain in a space of victimization and frustration. I knew that if I wasn't prepared to usurp the system, I had two options: become apathetic or seek a living outside of education. And since being apathetic is only a temporary coping mechanism, I realized that leaving was more sustainable.
I didn't care about the pension, the "good benefits", or the job security. I did care about the students that I would not be able to greet again in September. However, this is the necessary heartache that any parting teacher must anticipate. Chances are they will respect your decision; for they want you to experience all that you have taught them to attain, which is an authentic life.
There were colleagues I didn't necessarily want to leave either. They had seen me through many phases in my life including pregnancy, divorce, and graduate school. The administration were often in my corner and respected my desire to teach literature and writing. Many of my colleagues were funny, kind, insightful. I wondered: What if my new colleagues were mean, short-tempered, and egotistical? But what if they were content, inspirational, and creative?
The risk to leave was undeniable, meanwhile the option to remain put my own evolution at risk. I was lucky enough to resign after school was out. But the closer my start date neared the more wildly the pendulum swung, from anxiety and then back to bravery.
Dare
Everything turned out just fine; transcendentally joyous, in fact.
From proofing manuals, interviewing manufacturing presidents, editing/writing for the corporate newsletter, and checking the AP Stylebook and Merriam-Webster every chance I get, I am in my element. I have the added bonus of learning all about the engineering processes of the plastics industry along with branding and marketing strategies.
My mind is alight with curiosity and stimulation every single day. My ideas and solutions are encouraged for logical, real world applications versus intangible variables beyond my control.
Work-life balance is no longer an anomaly. Once upon a time ,"normal business hours" sans summer vacation scared me. I thought life would be one monotonous roll of toilet paper. But when you love what you do everyday and you are inspired by the innovation of the culture in which you create/work – it is not a burden! Actually, an 8:30 to 5:30 gig that respects my ideas, allows me time to refuel, and uplifts the tenets of compassion and creativity are very beneficial.
I have an uninterrupted, guilt-free lunch where I can down a bowl of soup at Barnes and Noble, take an exercise class, or walk he company's tree-lined grounds. At my desk, I drink water or tea all day and go to the bathroom when I need to as well.
The other parts of me are blossoming. Had I not left the classroom, they may have withered away, never to be fully applied in this robust fashion again.
Leap Into Life
Why simmer in any system that fosters dysfunction or maintains a culture of internal and cyclical sabotage? The educational industry – from its laughable Common Core Standards that read like Artificial Intelligence penned them to the removal of key staff members to balance budgets – is in need of major reform.
The other evening I was telling a friend, who also began a new career, about the intriguing aspects of my new job.
She said, "The old Ayesha is back! I can feel it!"
Two weeks before, another friend, who finalized his move cross-country to be more in his natural element, chided me for my fear of being inadequate. "They hired you because you are the perfect person for the job. Now all you have to do is own it and you'll be fine."
A familiar person is resurfacing. And I own and believe in my value. I yearned to be whole again, and if this is what getting back to me feels like, then I'm in for the ride of my life – with excellent benefits, vacation, and a pension, mind you.
Thank you for sharing your story, Ayesha, including the happy ending! 
Do you have a question for Ayesha about Life After Teaching?
As a side note, here are Ayesha's thoughts on the process of actually securing a job outside of teaching: 
I found a new job as a communications representative by first noting my skill set I wanted to capitalize upon and enjoy executing, namely editorial- or public relations-based. I also knew that the content/industry within which I wanted to work was either residential, commercial, or industrial designing or manufacturing. I cross referenced companies that fell into those design categories and looked for vacancies that aligned with my skill set.
I perused everything from public relations agencies specializing in hospitality design to online retailers — anything with an opening for content production in those markets. I found my current job via a good old job board like Indeed. However, I strongly do not suggest limiting one's search to popular job boards. Learn about the manufacturers, innovators, firms, and other entities — from boutique-sized to conglomerates — in the industry that inspires you and then view the job board on the company's or its affiliates' website.
As for actually getting a new job, it's so important for teachers wanting to transition to take initiative and learn some sort of technical skill. For me, I wanted to get connected with blogging or online content production. The blog that I write for
fun
(on Chicago Steppin' — an urban ballroom dance — at
quirkystepper.wordpress.com
) turned out to be one of the factors that got me hired!
First, the company's group president was able to gauge my writing voice/quality. Second, some of the technical work required at my new job also actually entailed working in WordPress (the website platform I used to blog). Since I had already been familiar with using the tool/website, I didn't need training in that area. So, having hobbies or an interest in this area definitely tipped the scale in my favor.