What is the Teacher's Toolkit and how can it help me?
It starts with a bad day in the classroom. 
A kid talks back, an administrator gives you an unnecessarily low mark, a parent yells at you… 
Or maybe you're just tired — exhausted, even — of working so hard and not seeing any headway while struggling to get ahead of your debt. 
The Teacher's Toolkit is the first step you take when you realize you don't want to teach anymore, but you're not sure what to do next.
It's for the go-getters, action takers, hard workers — in a nutshell, teachers.
I believe that the only way to experience freedom, REAL freedom, is through being your own boss. 
Can you imagine what it might be like to… 
Start work when and where you want 

Earn more based on the amount of hard work you put into the job 

Have enough to pay for

good insurance 

Not have to try to drag yourself to work with strep throat because there are no subs available? 
That's what the Teacher's Toolkit is for — to help you get out of teaching and into a career you love where you get to be the boss. 
It's a piece of a bigger puzzle, but here's what you need to know: 
We believe it's possible to quit teaching in 12-24 months (because that's what I did!… less than 12 months, actually)

The Teacher's Toolkit helps you take the skills you already have from teaching and translate them into a work-at-home career.
Who wrote the Teacher's Toolkit and why should I trust them?
I'm Brittany and I'm a former science teacher turned six-figure freelancer and entrepreneur. 
I left teaching — I did what you want to do. 
And not only did I leave teaching for another job I'll end up hating in 4 years… 
I left teaching to pursue what makes me excited about working — something that makes a difference. 
Within seven months, I was making six figures and now have multiple four-and-five figure contracts each month. 
And it's all because I figured out how my teaching skills were transferable and how they meshed with the things I felt passionate about doing. 
You can trust me because I'm just like you. 
I started as a frustrated, burnt out teacher who felt bad about even thinking about leaving teaching… 
…  and now have all this freedom. 
I've paid off my student loan debt and car debt.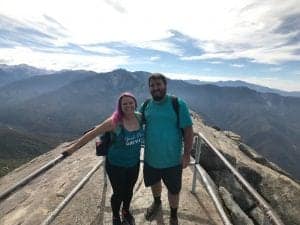 My husband is able to work from home now, too.
We're able to travel wherever and whenever we want. 
You can trust me because I'm just like you — only a few steps ahead. And I can help you take the few steps you need, too.
How long did it take you to leave teaching?
I've been working side hustles most of my life. 
I think my first side hustle was nearly ten years ago. 
So the short answer might be ten years. 
But when I figured out the secret behind combining my teaching skills, "can-do' attitude, and passion… that's when things really started changing. 
And that was less than 18 months ago. 
In fact, I started my most recent side hustle (the one that used my teaching skills, positive attitude, and passion) in January 2018 and by June 2018, I was ready to quit teaching because I was making about the same I was as an educator. 
From home. 
Snuggled between my two puppies. 
If you want to learn how to leave teaching within 12-24 months, I can show you how to do that.  And trust me, there are so many options for you to have a new career.  
Head to this link to snag your Teacher's Toolkit today and start right in taking action that is going to help you create the life you want.
I made the Teacher's Toolkit short on purpose — I want to help you see what's possible and take action right away. 
So if you'd like to leave teaching in 12-24 months but you don't know where to start…. Start here. 
Start with the book that's helping teachers find their next career and experience the freedom that comes with being your own boss. 
Click here to get the Teacher's Toolkit to begin your life after teaching journey today.