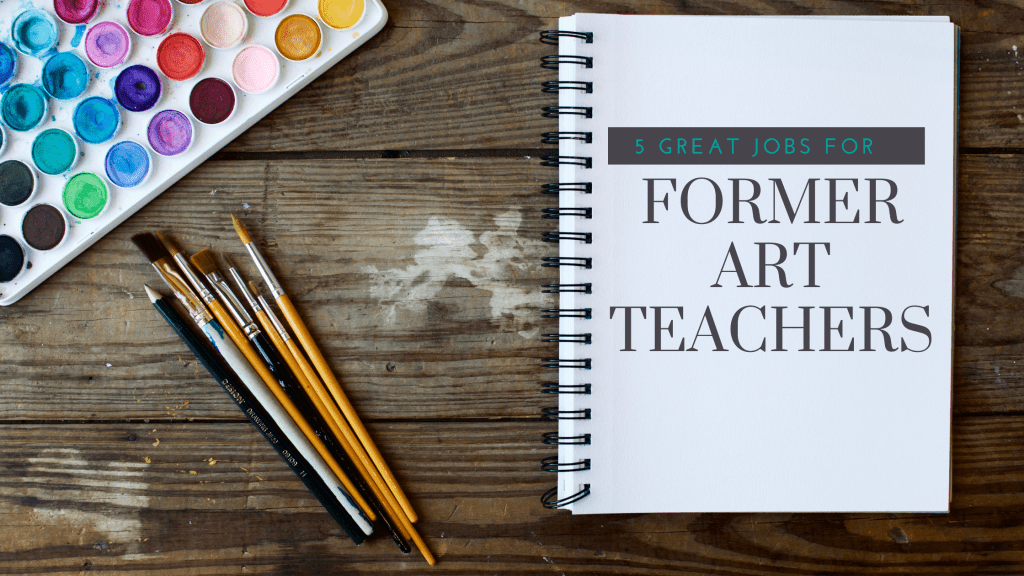 Leaving your previous job as an art teacher doesn't mean you have to stop being original and innovative. There are many new opportunities that involve using skills that you already possess, and a variety of career paths that also play to your creative strengths. Here's a list of interesting jobs and side gigs that you should consider pursuing as a former art teacher:

Firstly, working from the comfort of your own home is something everyone should consider trying. If you're used to commuting to and from school, it might sound like an intimidating idea at first. Brittany writes about how to gain the confidence to work from home, starting with practicing your skills. To start with, you should consider what job you want to try. If it's something along the lines of graphic design, taking an online course or watching YouTube videos should help you on your journey.

To get started as a graphic designer, create a Pinterest board or a folder featuring some of your favorite designs. Having a catalog of work to refer to can help you figure out your trademark aesthetic and where your interests lie, directing you to the skills you need to learn. For instance, if your style is more illustrative, you can look into purchasing a tablet to convert your hand-drawn designs into digital ones. By looking at what's currently online, you can also gain a better overview of both current and past trends, and see what type of designs appeal to today's audience. You can do anything from messaging brands on Instagram to offering logo and branding services, as well as selling art prints on Etsy. You can create your own Shopify store to sell merchandise, such as mugs, t-shirts, and tote bags. Alternatively, Society 6 also offers an easy way for you to profit by digitally uploading your designs online. They take care of all the printing and logistical aspects, and you can price your items according to your goals. They sell anything from prints, pillows, phone cases, and more.

"Just like the students you teach, when you're learning something new you need time to sit with the information and even more important — time to practice it." The most important thing is to keep trying and don't get discouraged.


2. PURSUE YOUR DREAM TO BECOME AN ARTIST​
This might sound a little far-fetched, but if you've ever dreamed of becoming an artist, maybe it's time to give it another shot. The Vindicator reports how a teacher got a one-woman show, as she was selected for the prestigious Golden Educators residency. You can start by submitting your artwork to local venues, and applying for a few residencies if you're feeling particularly ambitious. You never know, all it takes is one person to recognize your amazing art.

One of the most important things about being an artist is learning how to be comfortable with rejection and failure. It doesn't mean that you're a bad artist, but breaking into the art world can be an extremely difficult endeavor for even the most talented individuals. Networking is one of the most important aspects that can lead to your success because it's all about building good relationships in the art industry. Nicole Tinkham writes about how it's important to stay relaxed and be approachable when you talk about your work. It can be intimidating but maintaining a professional attitude will go a long way. Create a 30-second pitch describing your work and your goals, and memorize it so that it feels natural. You should also design your own business cards to reflect your artistic style so that you'll stand out from the crowd. Lastly, don't forget to follow up with an email or a phone call regarding any potential leads. Showing your work to as many people as possible will help you get exhibited, along with the power of social media. It's all about being proactive and engaging when it comes to your art, and knowing who you are as an artist.

Teaching is a highly transferrable skill, so tutoring others in art is something that should come naturally to you. A marketing manager told Marcus how she managed to save up for a trip to Paris by using her teaching experience of 20 years. While she works in marketing during the day, she also has her own small tutoring company. Make use of your network by contacting your previous students or their parents and see if they need any tutoring help. At first, working on a kitchen table is fine if you want one-on-one sessions with students but you should aim to expand if you want this to be your main source of income. Consider searching for community centers in your area. Instead of doing all the advertising yourself, you can ask them if you could teach a summer course to a larger group. Other options include reaching out to local libraries, community colleges, and small museums to host workshops. If you're a tech-savvy individual, you could also start making your own video tutorials. Skillshare and Udemy are two options that let you cater to online students. Another option is using Skype video sessions to guide your students with the artistic process.
If you're an art teacher, chances are you're also skilled at making crafts. The good news is that there are several avenues where you can sell your art online. Small Business Trends suggests Etsy as a popular online platform to sell prints, paintings, jewelry, and almost anything handmade. Creating an account is free but you have to pay a small fee to list your items. Other options include joining local craft markets, creating an Instagram feed, and promoting your goods through good old-fashioned word of mouth. When it comes to selling goods on Etsy, it isn't just about the products you have to create. There's a lot of competition online, so it's a good idea to curate your product selection and put your best foot forward in terms of branding. Take SEO into account when uploading your products, such as descriptions, titles, and tags. Photography is also extremely important, so take high-resolution, well-lit images to appeal to a wider audience. Also, be honest about where your products are manufactured and create clear shop policies to avoid negative feedback, which can adversely impact your brand.
5. Manage social media accounts
Creativity, organization, and a talent for making others pay attention are some of the key skills that you need to run and manage a social media account. On Entrepreneur's list of lucrative side hustles, they write that "many small businesses need a social media manager and simply don't have the time nor the expertise to be constantly posting on social media platforms." If you reach out to these businesses and offer your services, for a monthly or weekly fee, you can quickly get started on building a base of clients. The best part is that you can also work from home. Depending on your preferences, you can offer a variety of services. For instance, you can learn how to make graphics for branding and ad campaigns, short videos, or write copy to generate sales. Curating an Instagram feed so that it looks visually pleasing, gets a lot of likes, and reaches a large audience can be a challenging yet rewarding task. Staying organized, replying to inquiries, and being aware of the latest trends will go a long way towards ensuring your success.  

No matter which of these jobs sounds intriguing to you, don't forget that transitioning from any job requires grit and determination. It's not always easy to make that career switch, but if it's truly something you're passionate about, you're sure to find success in your creative field.  There are so many opportunities out there for you, whether it's tech side hustles or other side hustles listed here in this 100 Profitable Side Hustle Ideas.